Just two and a half miles north of Solon, Iowa sits a special landmark that provides a glimpse into the town's pioneering past – the Stone Academy. This historic one-room schoolhouse, located along Highway 1, the former Old Military Road, was built in 1842 and educated generations of Solon students for over a century.
From Memorial Day to Labor Day, the Stone Academy is open on Sunday afternoons from 2-5pm for visitors to tour the schoolhouse museum. Groups can also schedule appointments for tours by contacting Eddie Ulch at (319) 624-3840.
Stepping inside the simple limestone walls, it's easy to imagine what life was like as a student at the Stone Academy in the 19th century. Sunlight streams through tall windows to illuminate the wood plank floors and antique desks. A pot-bellied stove sits in the center of the room, ready to warm the space on chilly Iowa mornings. On the wall hangs a large chalkboard where lessons were carefully written out.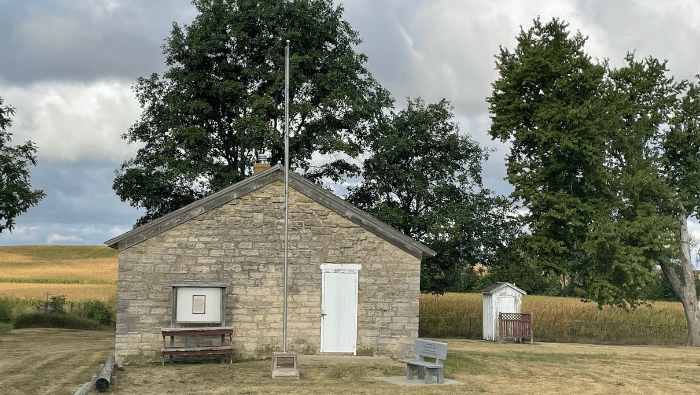 The schoolhouse closed in 1953 when Solon schools consolidated, but the building has been carefully preserved to retain its 19th century charm. In 1977, the Stone Academy was added to the National Register of Historic Places for its significance as one of Iowa's oldest public school buildings. It's the oldest school building still standing in Johnson County. It now serves as a museum where students can visit and participate in living history programs.
In 1976 a tornado tore the roof off and destroyed the interior. Restoration afterwards included fixing up the exterior walls and putting on a new roof, and then rebuilding the interior.
From its early pioneer beginnings, the Stone Academy in Solon stands as a monument to rural education in Iowa's past. Take a trip back in time and experience this special landmark firsthand by scheduling a tour this spring or summer.